Gentle Flow Yoga
This vinyasa style yoga class moves at a comfortable pace with time for occasional instructional segments, feedback and assists. We flow mindfully, with attention to breath and proper alignment, developing the strength, poise and coordination to achieve yoga poses and move through a variety of standing and grounded vinyasas. 1 hr
Namaskar Fusion
This class is a creative fusion of namaskars and mini-vinyasas (yoga poses in sequence) and is designed to be a little more demanding than Gentle or Super Gentle Flow Yogas. There will be a balance between strength building and stretching to promote mobility and freedom of movement. 1 hr
Super Gentle Flow Yoga
This class is super gentle and slow with time for yoga assists and implementation of props. More challenging options may be given where appropriate, to accomodate students of varying levels. Preference will be given to moving super gentle and slow, offering individual assistance and props where needed. 1hr
---
---
Teacher Bio
Cathie Frank


​Sole Proprietor, and Yoga Teacher dba Rio Rancho Yoga since August 2012
​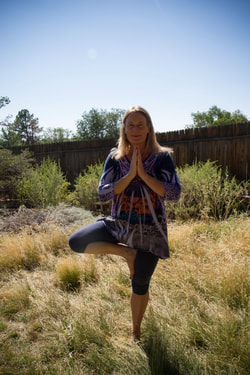 I graduated as a certified Prana Vinyasa Yoga teacher on June 1, 2012 and has been teaching vinyasa style yoga in Rio Rancho, ever since.
I am amazed at the power of yoga practices in my life and my goal is to share these practices with others.
I have continued to take continuing education to enrich myself as a yoga teacher and work to evolve my personal practice. To this end, I am currently embarked on the path toward Advanced Certification in both Shiva Rea's 300hr Prana Vinyasa program as well as Maria Garre's 300hr Ayurvedic Yoga Specialist program. I am proud to have such competent and creative teachers, who steep themselves in Indian culture, yoga related arts, and are knowledgeable of the ways that yoga and ayurveda work together.
I am also a student of Solar Healing (Sun Yoga) and Tantric Japa.
From September 2015 through July 2016 I created, produced and hosted Yoga Works radio talk show as a project to raise awareness of Yoga.
As a yoga teacher in later life, (will be 55 on January 30, 2018), I am aware of what is needed to remain fit and comfortable in my body as I age, and strive to offer classes that are suitable for students who are finding yoga for the first time, as well as to those who are returning to yoga after many years.
As we age, joints and muscles need to be stretched properly and safely in order to maintain freedom of movement. My classes are mindful and varied, with emphasis on aligning breath with motion, and have a healthy dose of flexibility training.
I also believe we can do a lot to stay "young" as we age, and enjoy challenging myself. Yoga as a practice helps us stay young and limber in our bodies and minds, and Ayurveda gives us practices to care for our health and youthfulness as well. I love to work on handstands, forearm balances and take myself to new challanges and accomplish new things. I also enjoy incorporating ideas from Ayurveda -- some of the self-care rituals, as well as paying attention to healthy diet, and ayurvedic remedies -- and meditation/pranayama practices, as these are all a part of the total package of yoga and related arts, and help us to age well in body, mind and spirit -- something we can start to work on even when we are young. To this end, I enjoy offering a variety of yoga classes, making yoga accessible to people of all ages and fitness levels.
---
---