Gentle Flow Yoga
This vinyasa style yoga class moves at a comfortable pace with time for occasional instructional segments, feedback and assists. We flow mindfully, with attention to breath and proper alignment, developing the strength, poise and coordination to achieve yoga poses and move through a variety of standing and grounded vinyasas. 1 hr
Energetic Flow Yoga
This vinyasa style yoga class is more challenging and requires greater strength and stamina than Gentle, or Super-Gentle Flow classes. We will build strength and mobility required to move through a variety of vinyasas and beneficial stretches at a mindful pace that allows us to cultivate alignment of breath with motion. While all are welcome in this class, preference will be giving to maintaining the class flow. You will be free to pace your own practice and do what you can, with less emphasis on feedback, instructional segments and personal assists. 1 hr
Super Gentle Flow Yoga
This class is super gentle and slow with time for yoga assists and implementation of props and is appropriate for seniors or people who want to take things extra slow for whatever reason. Although we keep things simple, we are on our yoga mats and when necessary down on the floor on our mats doing real yoga, chairs are available for personal modifications when necessary. Emphasis is on less strenuous poses that improve strength gently and provide the opportunity to cultivate greater mobility and freedom of movement. More challanging options may be given where appropriate, to accomodate students of varying levels. While all are welcome in this class, preference will be given to moving super gentle and slow, offering individual assistance and props where needed. 1hr
---
---
Teacher Bio
Cathie Frank


​Sole Proprietor, and Yoga Teacher dba Rio Rancho Yoga since August 2012
​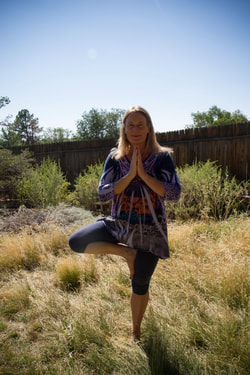 Cathie graduated from a 5 month teacher training program as a certified Prana Flow Yoga teacher on June 1, 2012 and has been teaching vinyasa style yoga in Rio Rancho, ever since. She's continually amazed at the power of yoga practices in her life and her goal is to share these practices with others.
Cathie has continued to take continuing education to enrich herself as a yoga teacher and is currently embarked on the path to certification in the 300hr Prana Vinyasa program and is also pursuing study towards certification in the 300hr Ayurvedic Yoga Specialist program, at the New Mexico School of Yoga. Cathie is also a student of Solar Healing and Tantra.
From September 2015 through July 2016 Cathie created, produced and hosted Yoga Works radio talk show as a project to raise awareness of Yoga.
Cathie's classes are mindful and varied, with emphasis on aligning breath with motion. "We are doing real yoga practices, even in Super Gentle Flow, where we slow things down a lot and take time for individualized assistance and implementation of props." Cathie offers three levels of yoga practice to accommodate the needs of students with varying abilities and goals: Gentle, Super Gentle, and Energetic Flow.
---
---